Plug-ins
What is a plug-in?
A plug-in is a block of code that is integrated into classic Yandex.Browser and expands its features. In contrast to extensions, a plug-in does not normally have an interface. Plug-ins are used for playing video and audio in the browser, viewing PDF documents, improving the operation of web services, collaborating on projects in the internet, and so on.
Installing a plug-in
Usually, you need to install plug-ins when you visit a site that has a specific type of content (for example, a video). To display this content properly, you must install a plug-in.
Classic Yandex.Browser informs you that a certain plug-in needs to be installed and offers to install it. You will see a notification in the upper part of the page. You will need to download the latest version of the plug-in from the developer's website and install it yourself.
How do I disable a plugin?
In the SmartBox, enter the address

browser://plugins

.

The Plugins page opens, where all installed plugins are listed. To disable a plugin, click the Disable link under its name.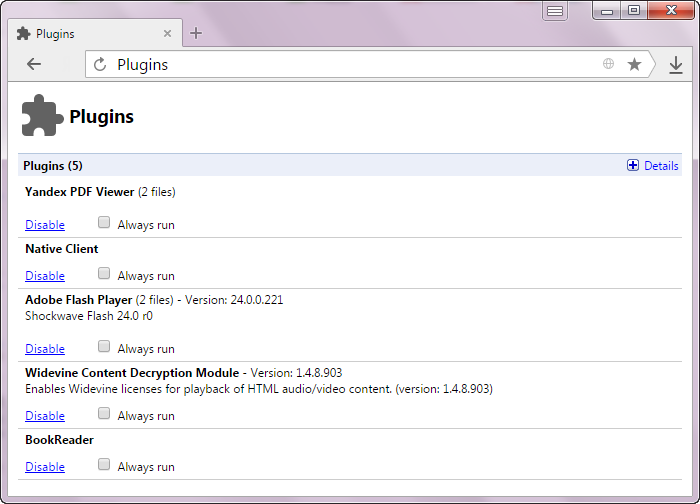 Update an outdated plug-in
The plugin doesn't update automatically and may become outdated. Classic Yandex.Browser determines which plugins are outdated and send you a message under your address bar:

To install the latest version of a plug-in, select

Update plug-in

.
If you want to continue running the plug-in without upgrading, click

Run this time

. The next time you start

classic Yandex.Browser

, you will see a message that the plug-in is blocked.