Turbo mode
Turbo mode reduces page-loading time and is activated when your internet connection with the browser is slow. Thanks to Turbo mode, you can quickly load pages and save money using a USB modem or in places with public Wi-Fi. This is especially important while roaming or when you are reaching your data limit on your plan.
When Turbo mode is enabled, the page loading indicator turns blue, and the right-hand part of the SmartBox receives the

icon.
Automatic enabling
Restriction.
In Turbo mode, only webpage data that you open in the browser ends up on Yandex servers. Personal data entered during e-payments and in authorization forms does not end up on Yandex servers since Turbo mode does not apply to pages that are protected using the
HTTPS
protocol.
Two thresholds determine when Turbo mode switches on and off:
Turbo mode is enabled when connection speed falls below

128 Kbit/s

, and remains on until the speed exceeds 512 Kbit/s.

When the connection speed exceeds 512 Kbit/s, Turbo automatically switches off (and the icon in the SmartBox disappears). Turbo mode remains off until the speed falls below 128 Kbit/s.

Restriction.

You can't adjust the speed thresholds for switching Turbo mode on and off.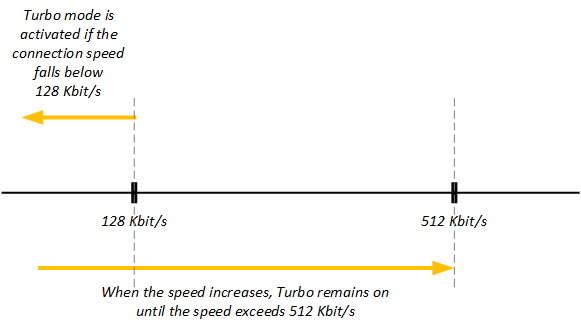 Disabling the mode