Protect: protection from internet fraud
Cases of internet fraud often occur when a user sees an interesting offer and sends a payment or confidential information to hackers. Yandex.Browser tracks fraudulent sites and blocks them.
Examples of internet fraud
The situations described below may occur if you visit fraudulent or infected sites (please note that a website that was secure yesterday may be infected today). They may also be the result of malware on your computer.
Note.
Malware may intercept information that you enter on websites and send it to fraudsters. Therefore, we strongly recommend using antivirus software.
Money-making offers on the internet

You are told you can get paid to view sites or videos on the internet, read ads, fill out forms or tests, or leave comments in forums.
You agree and start working. Your "pay" displays on the screen and grows very rapidly.
Soon thereafter, you are told you can get your pay, but it turns out that you have to make a preliminary payment first (to cover registration, personal income tax, VAT, or power-of-attorney fees so that someone can retrieve your funds from a distant location). Usually the request is for less than 400 RUB.
You make the payment, but don't receive the promised earnings. Additionally, the bank card info you entered when making the payment ends up in the hands of hackers.

Offers to install programs that will earn you money

You are told that you can install a program on your device that will earn you money automatically.
You install the program, but the only thing you see are messages telling you that you need to update it. You have to pay to update the program and it usually costs 200-400 RUB.
Malware that hijacks your personal /payment info is typically installed along with the program.

Promises of lottery winnings or charitable donations

You get an offer to participate in a lottery or visit a site that distributes money to those in need for free.
You start playing and win a large sum (or write a request for financial help and receive a positive response).
You are told that in order to get your winnings (or aid), you need to pay a small sum (about 400 RUB) as a commission to cover exchange fees, VAT, personal income tax, etc.
After making the payment though, you don't receive the money and your payment info is sent to hackers.
Blocking fraudulent websites
Yandex keeps track of sites that are linked to internet fraud and phishing and saves their URLs in a special database. If you try to visit a site that is linked to internet fraud, Yandex.Browser blocks the dangerous webpage and informs you of it. You receive a message in your browser window and the

icon will appear on the right side of the SmartBox.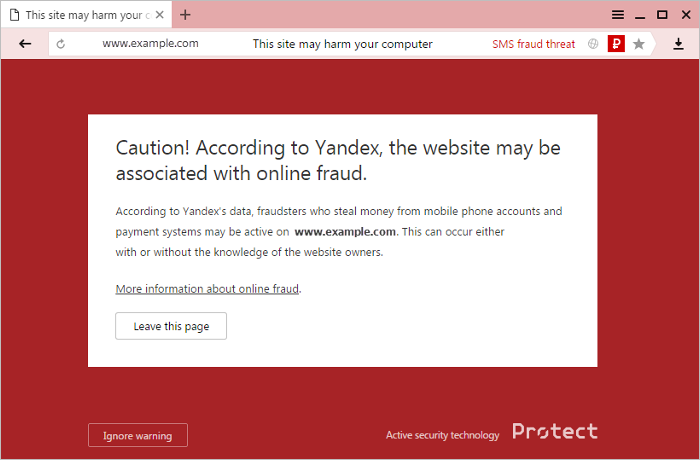 Attention.
We strongly recommend that you do not visit this type of website. Visiting these types of resources can be dangerous for the following reasons:
Instead of receiving the promised earnings or winnings, you lose the money you paid for the fake service.
If you enter your card number or other e-payment data, money may be stolen from your account.
Additional security measures
The Protect system's database of infected and fraudulent websites contains more than 80,000 websites. However, some websites might not be included in the database if no complaints were received about it. Take the following precautions to protect yourself from hackers:
Do not enter your mobile phone number on sites that you do not completely trust.
Do not send messages from your phone to numbers shown on websites.
Avoid transferring any

personal data

or data required for e-payments (bank card numbers, PIN codes etc.).
Disabling protection
Attention.
To disable protection against internet fraud, you need to completely disable protection against malicious software and websites in your browser. We do not recommend this.
To disable malware protection:
Click
In the lower half of the

Settings

page, click

Show advanced settings

.
In the

Privacy

section, disable the

Enable protection from malicious websites and software

option.

Restart the browser to apply the changes.
If Yandex blocks your website
If you believe that your website has been mistakenly included in the list of websites suspected of internet fraud, please contact us using the feedback form.