User Support
Popular questions
If something goes wrong (payments don't come through, you need to edit banking details, issues with the online sales register), first of all, see our list of frequently asked questions: the answer might already be there.
To view Frequently Asked Questions, click the Support button in the upper right corner: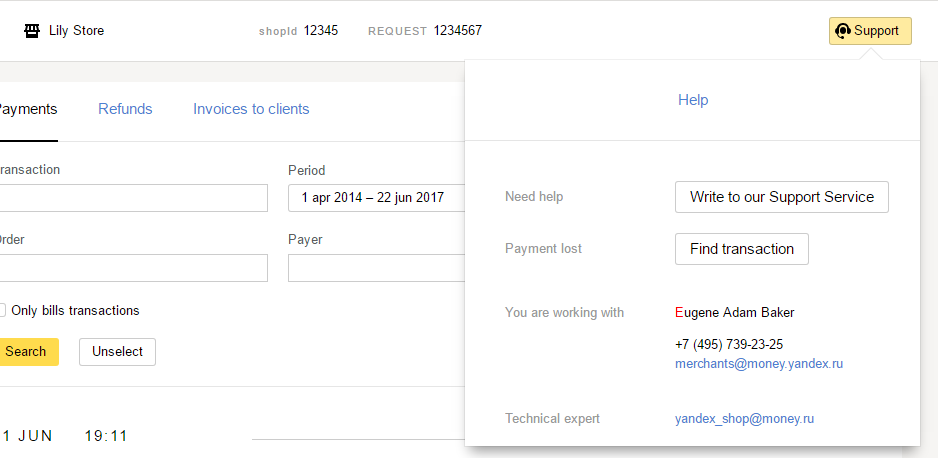 Messages to Support Service
If you can't solve the problem yourself, contact the Support Service. Click the Support button in the upper right corner and scroll the "Issues and Solutions" page to the "Troubleshooting" section.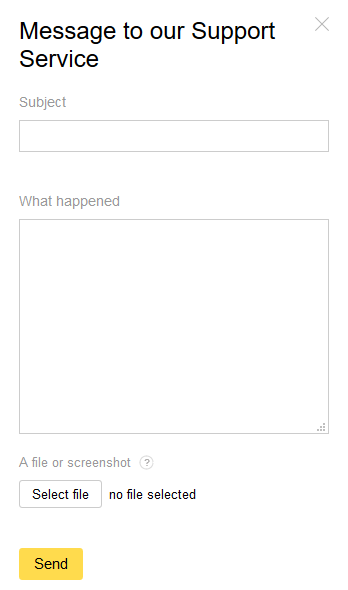 Try to find your issue in the drop-down list (there are two, the second one clarifies the first one), if it's not there, the first list has the I have another question field. After that, you will see a form where you'll need to provide a detailed description of your issue and click Send to Support Service. You can attach a screenshot or file with details to your message.
If you have an issue with payments or refunds (the refund doesn't come through, you can't find the payment), specify the payment ID in the form (from the Payment history) or the payment method, period, and amount. This will help solve the issue faster.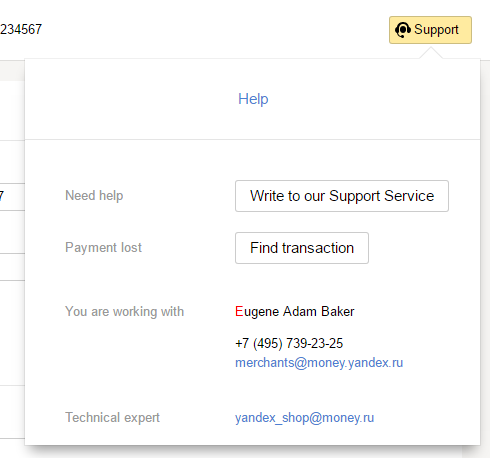 Contacts of Specialists
If you have an urgent question, you can contact your manager or technical specialist directly. Their contacts are provided in the "Urgent Help" section.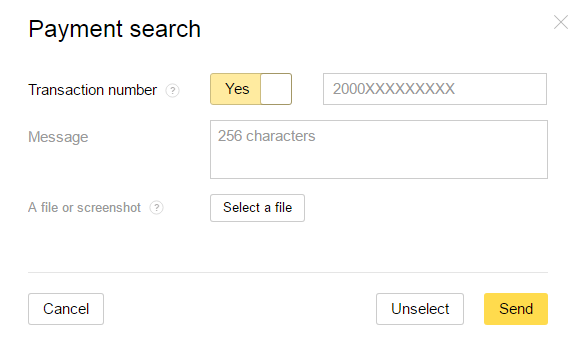 It includes the phone number and email address of the person who manages your company in Yandex.Checkout from the very moment of onboarding: they'll know best what to do. The manager will help you deal with the general and financial issues.
If you have any technical questions, contact the technical specialist. For instance, you cannot figure out how to set something up, or something is not working. Their email address is yamoney_shop@yamoney.ru
In the email, you must specify the your company or store's identifiers, such as contract number, application number, or shopId. This will help our specialists to immediately understand which store they're dealing with.
Notifications in Merchant Profile
We use notifications to inform you of important news and changes in Yandex.Checkout.
To view notifications, tap the bell icon in the top right corner of the page. If the bell icon is marked with a red dot, it means we have some news.