New warnings about ads
Special warnings have been automatically added to the advertisement of some items in Direct. Changes are related to new requirements of the law "On advertising" that entered into force on October 22 and concern all ads regarding the following themes:
dietary supplements
products included in children's diet in the first year of life, included breast milk replacements.
Ads that advertising food additives are accompanied by warnings that the substances are not medicine.
Information about age restrictions and the need to consult experts have been added to advertisements for children's nutrition. By default, the restriction "from 11 months of age" is affixed to warnings. You can change it to the appropriate age category in the interface or on the ad campaign parameters' page.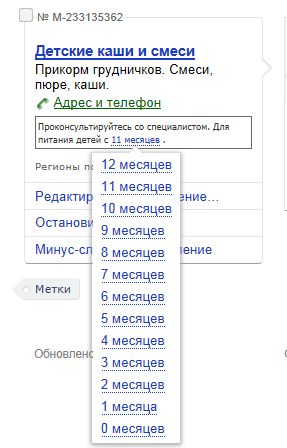 If your ad pertains to one of the listed themes, but a warning hasn't been added, you should report this as quickly as possible to the support service. We also recommend that you contact us as soon as possible if the ad's theme was determined incorrectly.