Manage impressions on mobile devices. Part 2: Mobile Ads
We recently added the option in Direct to separately set bids for impressions on mobile devices. From now on you can select the "mobile" type when creating a new ad, so that the system always gives it priority when serving ads to mobile phones.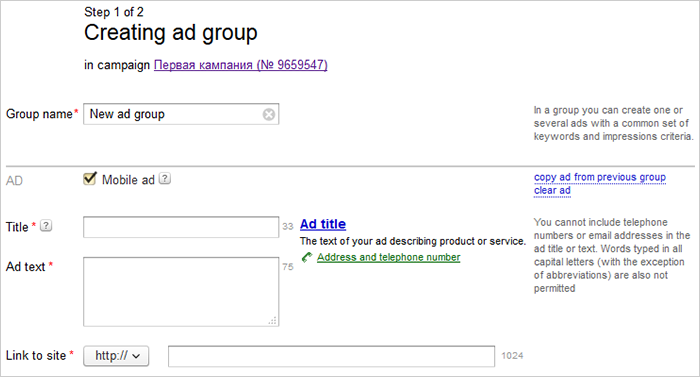 In this way, you will be able to enhance your advertising campaign with special ads for the mobile audience: write new texts, select separate landing pages, different illustrations, and sitelinks — anything that accounts for the specifics of this type of traffic and attracts more customers.
Getting around on smartphones

Mobile search has become an important stage for many users when choosing goods and services. People use their mobile phones to search for information on offers they have just heard on the radio or TV. They check for addresses of the nearest sales outlets, read reviews on goods they have seen in the supermarket, etc.
Frequently, the same person performs the search on several devices simultaneously. For example, you find some interesting information on your mobile device and then look for more details on your computer. Or you use your smartphone to search by subject to find out details of an offer you had found earlier on your desktop computer. When comparing the weekly audience for the Yandex main page in February this year, we see that 25% of desktop version users also visited the mobile version, and 68% of mobile version users visited the desktop search version.
Additional mobile ads in Direct will help you build better communication with smartphone users. The texts of such ads can be made more concise and persuasive. The shorter and clearer your message, the better it will influence potential customers who need something right now.
Do not forget to add contacts — the ability to make a phone call with one tap is an advantage of mobile search. For ads with a vCard, the user sees a phone icon. By tapping or clicking on it they can quickly contact your company.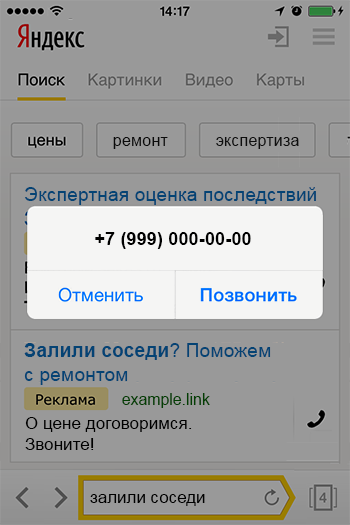 Features of impressions management

It is important that the ad group contains the regular versions of texts as well as the mobile ones. This will allow the system to distribute traffic between them correctly — display mobile ads on mobile phones and regular ads on desktops — and take into account the specifics of devices when calculating prices. If a group only contains mobile ads, one of them will be displayed on desktops, and the price for positions will be generated for click-throughs from desktop computers.
The same strategies and ranking rules are applicable both to mobile ads and to desktop ones. However, when the position of a mobile ad is selected, it is the CTR on mobile devices that is taken into account.
Mobile ads can be created and edited not only in the Professional Direct interface, but also via Commander, API, as well as bulk export and import in xls or csv format. All details are described in the Help section.