Ads for Mobile Apps: Beta Testing the New Format in Yandex.Direct
Beginning September 15, all Yandex.Direct advertisers can place ads using the new Ads for Mobile Apps format as part of open beta-testing. These ads contain app descriptions and a Загрузить (Download) button and are displayed on Yandex mobile search and mobile Yandex Advertising Network sites when triggered by a keyword or according to retargeting rules. When users click on an ad, they end up on your page in the app store and can download your app to their device in one click.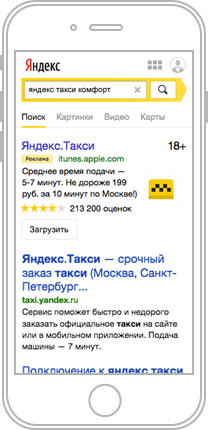 What's new:
Ad group management in this new format has been automated. It works like this: first you enter a link to your app in the store when you create your ads, and then Yandex.Direct uses the information found there to determine the correct OS (Android or iOS) and uploads all additional elements (icon, rating, price, number of reviews) to your ad. You can chose to disable any of these additional elements. The system also keeps track of how up-to-date your app information is. Updated data concerning your app's rating or other characteristics will be pulled from the store and appear in your ad within 24-hours. If something happens and users can't download your app from the store, Yandex.Direct will automatically suspend your ads until the problem is resolved. You will be notified of this by email. You can already upload ads in the new format using csv files; uploading using xls files and the API will be available in the near future.
New targeting and strategies:
You can chose to only serve your ads to targeted users: choose by device type (smartphone, tablet, or all devices) and connection type (mobile connection + Wi-Fi or only over Wi-Fi).
The new format still works on a pay-per-click basis, however you can choose one of two new strategies for mobile app ads that make completed app installations their focus : Average Cost to Install App and Maximum Number of App Installations. The minimum average cost to install an app is 0.9 RUB before VAT.
A more detailed description of strategy conditions and information on how to track mobile app ad performance can be found in the Help section.
Audience prognosis:
Yandex's mobile audience constitutes about 20% of total traffic. Smartphone and tablet users make more than 220 million search requests a week on Yandex.