Plastic Yandex.Money Card with Bonuses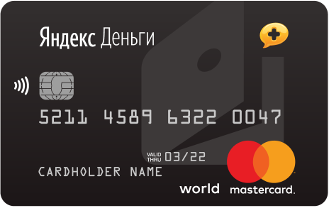 The card operates together with your Yandex.Money card: they share common balance. You can additionally collect bonus points from Svyaznoy Club's partners.
Pay at any points of sale—online stores, supermarkets, coffee shops, and gas stations. The card also operates online. To get bonus points, make purchases from Svyaznoy Club's partners. Then you will be able to exchange bonus points for discounts.
Withdraw cash via any ATM worldwide.
Ordering a Card
We don't issue new cards with pluses anymore—you can order a new Yandex.Money card for 200 rubles (for three years).
Settings, PIN, Notifications
Go to the Bank Cards section and click on your card: you will see a settings page. This section allows for the following:
edit PIN
check your secret word
view your bonus points balance
set limits on the allowed types of operations
notify us you are going to use your card abroad
cancel your card.
Important Thing about PIN
Simple combinations like 1234 are no good: they are too easy to guess. We recommend you choose something like your granny's birth date or a part of your friend's phone number.
If you forget your PIN, simply specify a new one (you will need to confirm it with a password).
If you create or change your PIN, we recommend you check it is working. Find any ATM for that: insert your card, specify the PIN and request to show your balance.
If you enter incorrect PIN three times in a row, the card will be blocked. You will not be able to pay even online, where PIN is not required. In this case call +7 495 974-35-86.
Notifying about Operations
We send payment receipts and other service messages to your email address for free. You can change the address or disable a regular payment (or reactivate it) under your account Settings.
You can additionally activate text message notifications for 50 rubles a month (200 rubles per 6 months; 350 rubles per 12 months).
Svyaznoy Club Bonuses
The Svyaznoy Club bonus program unites 50 companies-participants. For instance: Bukvoed, Ecco, AliExpress, Ozon, LaModa, KupiVIP.
If a location supports both the Svyaznoy Club program and discounts for MasterCard owners, you need to choose one: a discount or bonuses. You cannot enjoy both programs at a time.
How to collect bonus points

Make purchases from Svyaznoy Club participants:

be it an online store, navigate to it from sclub.ru. Do not follow links from search results or direct links. Otherwise it won't work
if you are paying at the sales register, show your card before making payment
be it an order by phone, tell the code under the bar code on your card (13 digits).

You will get up to 15% of the payment amount back to your card. The exact amount depends on the place you are paying at. During campaigns this "rate" may amount up to 100%.

The term for crediting bonus points to you also depends on the company. It usually takes up to 40 days. To get precise information for every store, check with the Club's site.
How to check your bonus points account

On our site: navigate to the Bank Cards section and push 'Check bonuses balance'.
On Svyaznoy Club's site: after you register your card on it.
How to spend bonus points

You get 1 ruble discount for every bonus point.

Check with Svyaznoy Club's site to make sure you can spend your bonus points at a certain store.

Possible options:

be it an online store, navigate to it from sclub.ru. Do not follow links from search results or direct links. Otherwise it won't work
if you pay at the sales register, show your card and tell the cashier you want to spend some bonus points
be it an order by phone, tell the code under the bar code on your card (13 digits).
If it is possible to transfer bonus points to another card

If you reissue you Yandex.Money card with bonuses for the same Wallet, bonuses will be transferred automatically. Simply activate your new card. Bonus points will be on its account.

You can transfer bonus points from other Yandex.Money card bonus points from other Svyaznoy Club's cards—C-store, striped card, or card with a plus. Conditions:

both cards should be issued in one name
Yandex.Money card was activated on sclub.ru.

If both conditions are true for you, call Svyaznoy Club's customer support: 8 800 700-53-53 (within Russia only). You will need to tell number of the cards and answer operator's questions.
Withdrawing Cash
You can withdraw cash from your Yandex.Money card via any ATM worldwide. Insert your card, enter PIN, and collect cash.
Money will be debited from your Wallet.
Withdrawing without commission
You can do it if you have a personalized card, and you are an identified user.
You will be able to withdraw 10,000 rubles per month without commission, in parts or at once. For example, if you withdraw 10 thousand and 500 rubles, the commission will only be applied to those five hundred.
Commission rates
Commission—3%, but no less than 100 rubles.
It means that even if you withdraw 100 rubles (or any other amount below 3,300 rubles) the commission will amount 100 rubles as it is the minimum fee. Starting with 3,350 rubles, the commission is calculated at the rate of 3%. For example, the commission for 5,000 rubles is 150.
Payments Outside of Russia and Currency Conversion
If you buy sandwich in Moscow today and boots in Hong Kong tomorrow, it looks like the card details were stolen. In this case our Security Service may block the card to protect the funds.
If you do not want that to happen, tell us about your trip in advance. You can do it under your card settings.
Viewing card settings: navigate to the Bank Cards section and click on your card.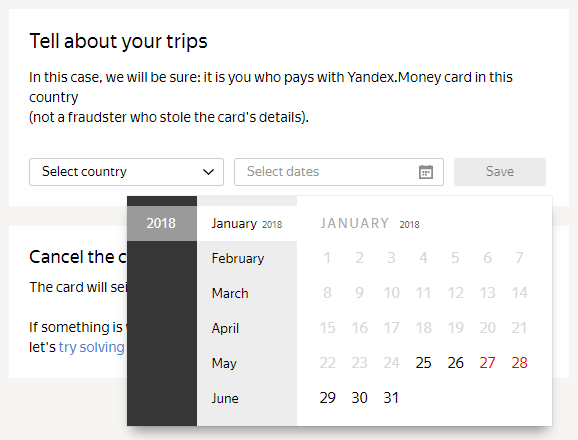 Important: if you are anonymous users, you can withdraw cash outside of Russia, but you cannot pay.
If you reside in other country than Russia, this rule still affects you:
you need to be identified to pay at stores (otherwise you can only withdraw cash)
all payments apply converting rubles into your local currency you pay in
you need to inform us when you leave the country you ordered your card to.
How currency conversion works

Yandex.Money card is a card in Russian rubles because Yandex.Money account is in rubles.

Whatever currency you pay in, rubles are deducted from your Yandex.Money account. The conversion made according to the MasterCard rate + 2.7% (view example).

In a day or two, an additional debit entry will appear in your History: a debit or credit of a small amount. This is usually a few dozens of rubles or even kopecks (depending on the payment amount). This is the exchange rate differential.

The required amount is blocked on your card in the moment of the payment. The amount is calculated according to the conversion rate on the date of the payment.
MasterCard processes payments for one-two business days. In the meantime, the conversion rate changes.
The service deducts the amount calculated according to the up-to-date conversion rate: if the target currency become more expensive, the difference is deducted from your account, if it become cheaper, the difference is credited to your account.
What to do if you need to specify a Billing Address or something else

When you pay on non-Russian sites, you may be asked to provide supplementary information in addition to bank details.

Billing Address—home address.
Address 1—house number, apartment number, street. For instance: 1/11 Queens blvrd.
Address 2—optional field. You can specify a part of the city if you have several streets with the same name in your city.
State—county or region. For instance: City of London or Greater London.
ZIP or Postal Code—your postal code.
You Card Got Lost: What to Do
If you have already activated the card, cancel it immediately. The Cancel button is in the Bank Cards section. If you cannot cancel your Yandex.Money cards yourself, call our Support Service at +7 (495) 974-3586.
If your lost card is not activated, you do not need to take immediate measures. But we recommend inform us about what has happened via a form on our site.
As soon as the lost card is cancelled, you can issue a new one.
Fees and Limits
Payments

Commission—0%, except the cases where the trading location uses an improper MCC.

The limits depend on your user status:

15,000 rubles for anonymous users
250,000 rubles for identified users.
Cash withdrawal

If you have a personalized card, and you are an identified user, you can withdraw 10,000 rubles per month without commission.

In other cases, the commission is 3% of the amount but not less than 100 rubles.

The limits depend on your user status:

5,000 rubles at a time (and a day) for anonymous users
100,000 rubles at a time for identified users.