Linking Your Card and Wallet
You can link your card if it is handy for you to pay with your card without adding money to your Wallet.
You specify card details once, our service saves them. Later on, in the course of payments, you will only need to specify the CVC. No one gets your bank card details, and you do not spend time on entering details.
All together you can link to your Wallet up to five cads. It is for free.
How it works
You specify you card details, and we save them in an encrypted form (under your Wallet). After that you can choose the source of a payment:
from you Yandex.Money account, if you have money on it. In this case, your card is not engaged in the payment
from your linked bank card. In this case, money is debited from your card balance and transferred through your Wallet to the store. The whole process is instant. On the store's side, the payment is considered as made from a Wallet.
Cards Supported for Linking
You can use any debit or credit card: Visa, Visa Electron, MasterCard, Maestro, and "MIR" cards.
The card should be issued by any bank in Russia or one of the following countries:
Armenia, Azerbaijan,
Belarus,
Estonia,
Georgia,
Kazakhstan, Kyrgyzstan,
Latvia, Lithuania,
Moldova,
Tajikistan, Turkey, Turkmenistan,
Uzbekistan.
If you have such card, but you cannot link it, call to your bank: online payments may be forbidden for it.
Technically, you can link other cards, but it will not make much sense: the majority of payments won't go through.
About the Yandex.Money card: you do not need to link it with your Wallet. You initially issue it for a certain Wallet (or sign into the corresponding account before activating it, if this is a pre-issued Yandex.Money card). So that means such card and your Wallet are linked from the beginning, and they share common balance.
Linking Card or Canceling the Link
You can view the page for linking your Yandex.Money account and bank card from the balance menu and the Bank Cards section.
You will need to enter your bank card details: number, expiration date, CVC.
Then you will need to specify a one-time password (issued or sent by your bank).
We will transfer 1 ruble from your card to your Wallet as a test (plus one kopeck—service commission).
If you do not specify your one-time password, linking attempt will be automatically aborted in 24 hours.
If you did not get the password or it did not work, you can try again: our site will prompt you to inquire a test amount in the bank. It may amount up to 10 rubles. The bank reserves it on your card for verification.
You can cancel the link between your card and Wallet at any moment—under the Bank Cards section. Push "Cancel link" and enter your password In a minute, the card will be deleted.
Linking Several Cards
You may need it if you want to choose the card you want to pay with in the course of a payment. For instance, if you ran out of money on your most used card.
One card is considered main: you can adjust it under your Settings. You need the main card where a payment is made without your participation. For instance, if you activated an autopayment on our site or allowed a third-party applications to debit your account.
Paying and Transferring Money from Card
If you are on our site, simply select your card as a payment method and enter its CVC.
If you are on a store's site, initially select Yandex.Money, further on select your card.
1.

2.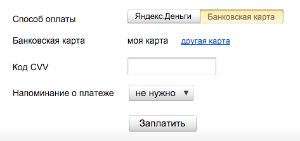 If Your Card Was Reissued
When a card expires, its link with your Wallet is cancelled automatically. If you have a new card, simply link it with your Wallet (and cancel the link with the expired one).
Linking, cancelling, and applying other options are under the Bank Cards section.
Fees and Limits
We do not charge additional commission for paying with a linked bank card: conditions are always the same as for payments from your Wallet.
If you linked several bank cards, monthly and daily payment limits are applied to all cards together (not for each one separately).
Limits for Visa, MasterCard, and MIR:
| User status | One-time limit | Daily limit | Monthly limit |
| --- | --- | --- | --- |
| Anonymous | 15,000 rubles | 20,000 rubles | 200,000 rubles |
| Identified | 100,000 rubles | 100,000 rubles | 200,000 rubles |
| User status | One-time limit | Daily limit | Monthly limit |
| --- | --- | --- | --- |
| Anonymous | 15,000 rubles | 20,000 rubles | 200,000 rubles |
| Identified | 100,000 rubles | 100,000 rubles | 200,000 rubles |
The limits quantity of operations apply: you can pay up to 15 payments a day from linked bank cards.