Payment Form and Button on Your Site
This solution suits for owners of sites or blogs (and you can embed some HTML code into it).
The payment looks as follows: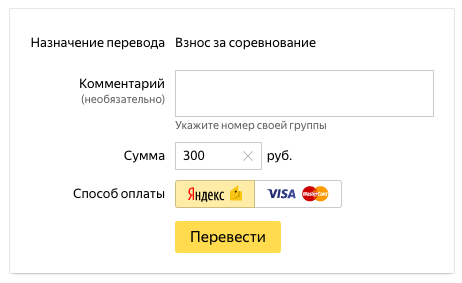 The button looks as follows:

What to choose: form or button
Choose a button if you want to set a certain transfer amount (the payers will not be able to change it).
Choose a form if the amount depends on the sender.
More details below.
About Button
The transfer amount is not displayed on the button. So we recommend you specify it somewhere near it.

One button supports one transfers method. If you want to accept transfers with all three methods (Wallet, card, carrier billing), you need three buttons.

You can choose its size and color.
About Payment Form
You can prompt an amount for your payment form, and the payer will be able to change it.

The payer selects the transfer method in the form.

If you want the payers to be able to comment on their transfers, add this field using our construction kit. You can also make a prompt for this field to let the payers know what to write in it.
Redeeming HTML-code
We have a special construction kit: you fill out fields, and it generates the code strings for you. You can copy this piece of code right away and embed it into your site.
Where Money Accumulates
Our construction kit automatically uses your Wallet number for generating the code. If you leave this part of the code unchanged, you will get money to your Wallet.
Editing Data in the Generated Payment Form or Button
If you are yet to close the construction kit page, simply change whatever information you like—the code will be instantly adjusted. Do not forget to copy the renewed piece of code (or send it again via email).
Another option is to edit this piece of code manually. It allows you to change the recipient's Wallet number, amount, transfer purpose, and any other values.
Fees and Limits
The sender can only pay with a card if it is issued in one of these countries.
The commission amount depends on the transfer method.
Transfers from Wallets—0.5% of the amount. If someone transfers you 100 rubles, you will get 99.5 rubles to your Wallet.
Transfers from cards—2% of the amount. If someone transfers you 100 rubles, you will get 98 rubles to your Wallet.
Transfers by direct carrier billing—the commission is charged from the phone owner. Its amount depends on the mobile carrier:
Beeline—7.95% + 10 rubles

MTS—10.86% + 10 rubles

Tele2—15.86%.
The limits depend on the transfer method and the recipient's user status. Anonymous users can keep up to 15,000 rubles; identified users can keep up to 500,000 rubles. More about limits