Yasobe.ru Page
It is a great solution for raising money for a common gift or other good thing.
Fill out a few fields, click Post, and that's it: you are ready to share the link with your friends.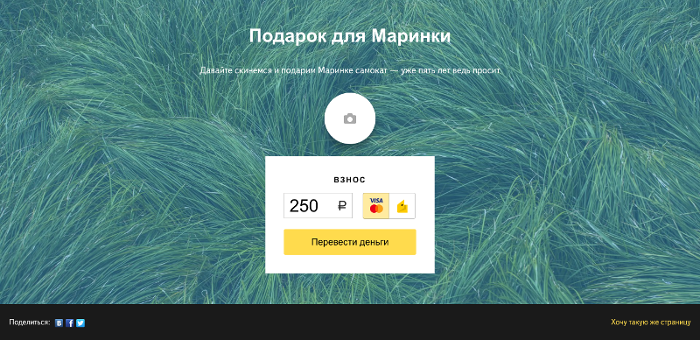 Features
add any photo, for example, of the birthday person or the shared purchase,
set the due date, after which the page will be automatically closed,
fix the payment amount or let each sender decide on the amount independently.
Where Money Accumulates
Money from the page is credited to the Yandex.Money Wallet you specified when configuring the page.
Editing Created Page
We sent you an email with a link to editing the page and a secret word (works as a password).
Edit what you like and save changed.
Fees and Limits
We deduct our fee from the transfer amount:
2% for transfers from cards—if someone sends you 100 rubles, you get 98 rubles
0.5% for transfers from Wallets—if someone transfers you 100 rubles, you get 99.5 rubles.
The limits depend on the transfer method and the recipient's user status. Anonymous users can keep up to 15,000 rubles; identified users can keep up to 500,000 rubles. More about limits