To a Company's Account
You can use Yandex.Money to accept payments to a company's bank account. Without a Wallet.
Post a form on your site, without a contract.
Create such payment form and embed it into your site: your clients will pay with debit or credit cards or from Yandex.Money Wallets.
Money is credited to your company's bank account. For your accounting department, such operation is considered as a wire transfer of an individual.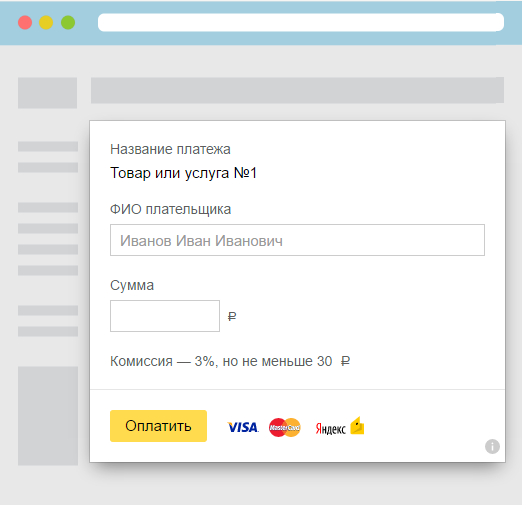 Conditions:
maximum payment amount—15,000 rubles (including commission)
money is credited to the account within 2-3 business days
we send notifications about payment by email.
The commission is paid by the payer: 3% of the amount, but no less than 30 rubles.
To create a payment form for your site, go to "Raise and Accept Payments" and push "Construct a form". You will further need your company details and its banking information.
Yandex.Checkout requires contract
Yandex.Checkout is a special service for corporations and sole proprietors. It allows to accept payments even without a site.
There are 12 methods of payment: credit and debit cards, e-wallets, online banking, direct carrier billing, loans, and cash. Money is credited to your company's bank account.
The commission amount for payments depends on your turnover and business area.
Go to the Yandex.Checkout site