Our Fundraising Page
If you have a Yandex.Money wallet, you also have your individual page for accepting money.
Go to the wallet settings (click on the balance in the upper right corner, then on the gear icon). The link to your page is placed opposite the wallet number.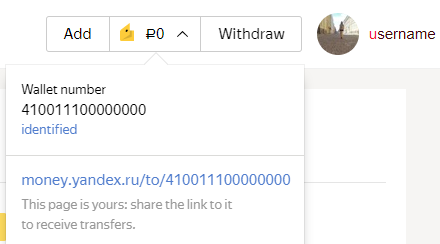 You can send this link with anybody (and share it via social network).
How your fundraising page works
When someone views this page, this person sees the following:
your wallet number,

field for entering amount

two options for transferring money—a Wallet or debit and credit card.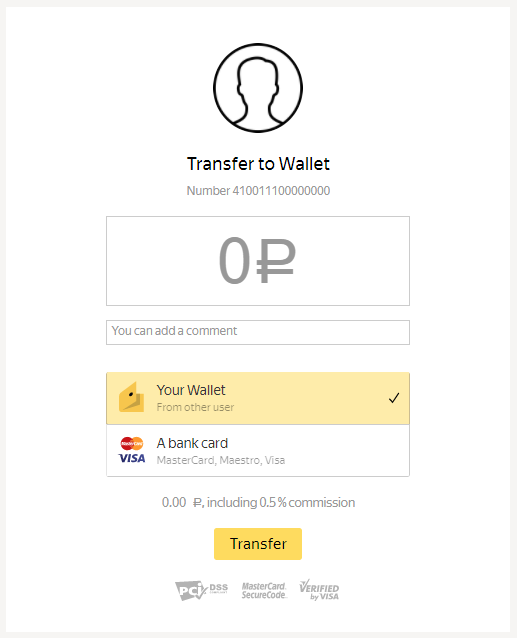 Visitor enters the amount, selects transfer method, and transfers money.
Fundraising page with a fixed amount
To set an amount that will be specified on your fundraising page in advance, do the following:
Go to this page.

Specify the amount.

Push the arrow icon and copy the link.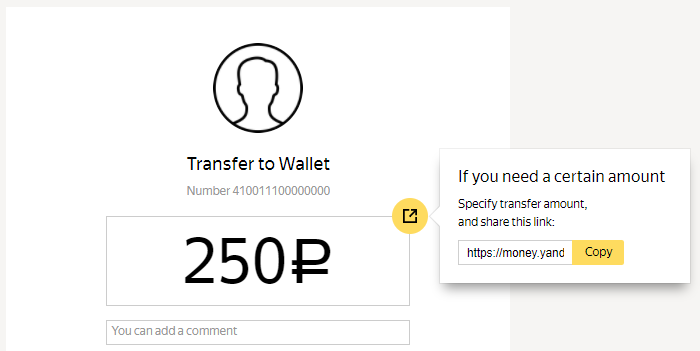 Fees and limits
The commission amount is the same as for common money transfers; charged from the sender:
0.5% of the amount for transfers from a Yandex.Money Wallet

1% of the amount for transfers from debit and credit cards.
The limits depend on the transfer method and the recipient's user status. Anonymous users can keep up to 15,000 rubles; identified users can keep up to 500,000 rubles. More about limits