Completing Identification in an Office in Person
Who can apply: everyone.
Cost: free of charge.
Time required: several minutes
What to Do
Just go to the office.
Russian citizens need to take their passport with them.
Belarusian citizens will need the passport of a citizen of the Republic of Belarus.
Citizens of all countries besides Russia need to bring several documents.
Give it all to our secretaries.

Tell your account number.
You can confirm your identification on our site in just a few minutes.
After the Visit
You will see a link for confirming identification on our site. The link looks as follows: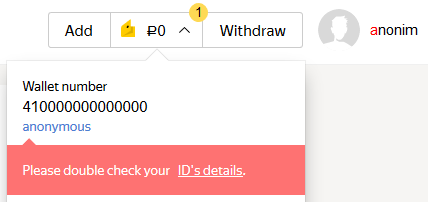 Follow this link and check the specified details. Confirm that everything is correct, and the wallet will be identified immediately.
If you find an error, contact our Support Service (subject: Identification).
The identification must be confirmed within 180 days from the moment the notification appeared in the wallet. Otherwise, you will have to start all over again (by visiting the Yandex.Money office).