Application by mail
Suitable for: citizens of any country.
Cost: mail, notary, and (possibly) translator services.
Waiting period: 7 business days (maximum) after the delivery.
Required documents
Usually only two documents are required:
Copy of the passport — the main spread (with the photo) and the spread containing registration information, if available.

Identification application — filled out and printed.
Note: if you are a public official or a relative of one, or you have a beneficiary, you will need to fill out an additional application.
Documents for notarization
Notarize the copy of your passport. If you are unable to do so in your country, please confirm your signature on the application.

If your passport or notarization are not in Russian, have them translated into Russian. Then notarize the translator's signature.
The next step depends on the country where you're notarizing the documents — select it from the list.
Where to send the documents
Two options:
by registered letter to 115035 Moscow, p/o 57, NBCO Yandex.Money LLC,

by courier to the Moscow office at 82 Sadovnicheskaya street, building 2.
Please note that delivery by mail may take several weeks. You can track the delivery on the website of Russian Post by the tracking number. If the status changes to "Delivery to the recipient", it means the Yandex.Money support service has already started processing the information. Processing will take a maximum of 7 business days.
When everything is ready, you will see a confirmation link on the website, like this: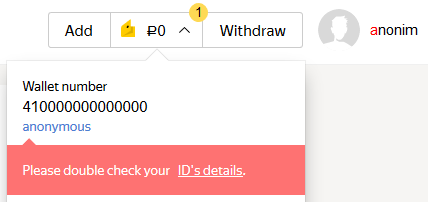 Follow this link and check the specified details. Confirm that everything is correct, and the wallet will be identified immediately.
If you find an error, write to our Support Service (subject: Identification).
The identification must be confirmed within 180 days from the moment the notification appeared in the wallet. Otherwise, you will have to start all over again (by sending the notarized documents by mail).