Filing or Recalling Complaints
You can file a complaint to the Professional Wallet owner within 30 days from the transfer.
The "Professional" will see your message in her Wallet. She will have 14 days for response.
Navigate to the transfer details in your History. Find the gray link "All payment details":

Push "File a complaint" under the full payment details:

Describe what has happened. Specify your email address or phone number to let the recipient contact you.

This message will be recorded under the full payment details. You can also recall your complaint there.
We will add a special filter, "Complaints", to your payment History:

What's Next
If the recipient makes full refund, your complaint will be closed automatically.
If the issue is resolved in some other manner, you need to recall your complaint manually (see the link under the complete payment details).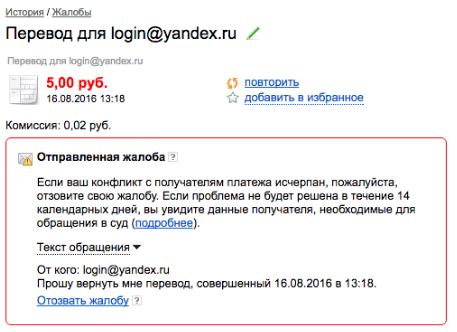 If Recipient Ignored or Declined Your Complaint
Identified users may apply to the court independently. This requires the recipient's personal details and an evidence that you made the transfer. You can check the details and get your payment confirmation under the payment details (follow the link "Complaint handling" to view full details).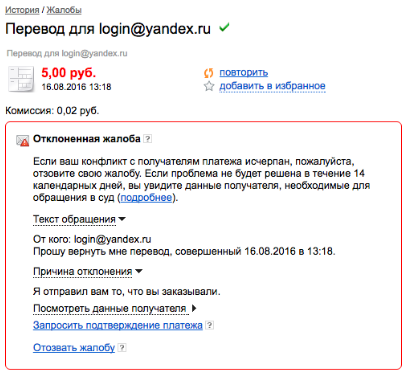 If your user status is unanimous or reviewed, you won't be able to get other user's personal details. Contact our Support Service.