Completing Identification Online
Via MTS
Who can apply: citizens of the Russian Federation who use an MTS Russia SIM card (with number linked to the wallet).
Cost: 60 ₽.
Time required: several minutes
You will see the phone number linked to your wallet. If everything is correct, click "Proceed to payment".

Pay 60 ₽ (from your wallet or bank card).

Next, proceed to MTS for passport details; click OK.

Your will receive a text message notification from MTS: confirm that you allow Yandex.Money access to data.

If everything is done correctly, you will automatically return to the Yandex.Money website. There's a chance that we'll need more data for identification, and you'll need to fill in one or several more fields (have you passport on hand just in case).

All you need to do after is complete the identification: double check the information and confirm that everything is correct. Your user account status will be immediately upgraded.

If you find an error, contact our Support Service (subject: Identification).

The identification must be confirmed within 180 days from the moment the notification appeared in the wallet. Otherwise, you will have to start over (by opening the form).
Copy Your Identification
Who can apply: users who completed identification for another Yandex.Money Wallet.
Cost: free of charge.
Time required: several minutes
How it works: you copy details from an identified account to your other account. The first one preserves its status.
Sign in to your identified account.

Confirm the action with a password.
After that, log into your other Yandex.Money account. In your balance menu, you will see a link as follows: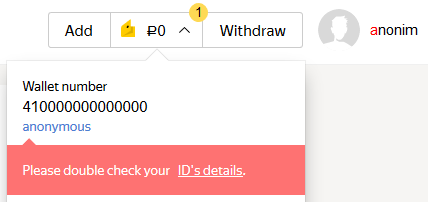 Follow this link and check the specified details. Confirm that everything is correct, and the wallet will be identified immediately.
If you find an error, contact our Support Service (subject: Identification).
You can copy your identification a limited number of times: one passport can only be used for identifying maximum of 10 Yandex.Money Wallets.
The identification must be confirmed within 180 days from the moment the notification appeared in the wallet. Otherwise, you will have to start all over again (by sending a request on the Yandex.Money website.)