Furnishing Application via Our Agents
Price: depends on the country.
How long to wait: 10 business days.
Countries Where Our Agents Available
In Belarus, Kazakhstan, Ukraine, and other countries.
What to Do
Make an appointment. Check with the agent the price of sending the documents form your city.
Fill it out and print it out.
Bring your application and passport to the agent on the appointed day.
After the Visit
You need to wait for 10 business days.
Then you will see a link for confirmation on our site. It will look like that: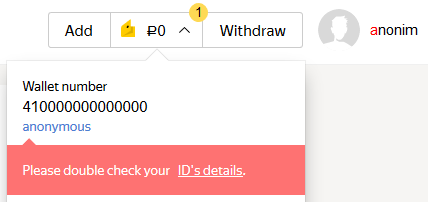 Follow this link and check the specified details.
If everything is correct, confirm it with a password. This Wallet's status will be immediately upgraded.
If you find an error, write to our Support Service (subject: Identification).