How to complete the identification process in Euroset or Svyaznoy
Who can apply: everyone.
Cost: 300 rubles.
Time required: several minutes
Bonus: 200 points (if you complete the identification process in the Svyaznoy or Euroset before 15 October inclusive).
Prepare in Advance
Write down your wallet's number and prepare the following documents:
Russian citizens will need a Russian passport,

Belarusian citizens will need the passport of a citizen of the Republic of Belarus,
What's Next
Visit the nearest retail outlet.

Tell the cashier that you need to complete the identification process for your Yandex.Money wallet.

Show the documents and provide them with the wallet number.

Pay 300 rubles. If you chose Euroset, one ruble will be deposited to your wallet.

Get the receipt.
Side note: at Euroset, you may be asked for the service's article—it's 457015 for citizen of the Russian Federation, 652784 for citizens of Belarus, 652783 for citizens of other countries.
The cashier will tell you the results in a few minutes.
Don't forget to confirm it at the website
At the Yandex.Money website, you will see a confirmation link that looks like this: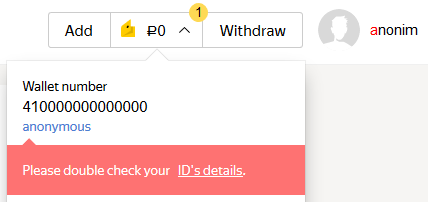 Follow the link, double check the information, and confirm that everything is correct. This Wallet's status will be immediately upgraded.
If you find an error, write to our Support Service (subject: Identification).