Working with constraints
The constraints help your site users to define the search area (for example, in order to search within PDF documents only) without entering the search operators manually.
Each type of constraints available to the users is displayed as a pseudo link under the search bar. When the user clicks a pseudo link, a window opens to select constraints of a given type.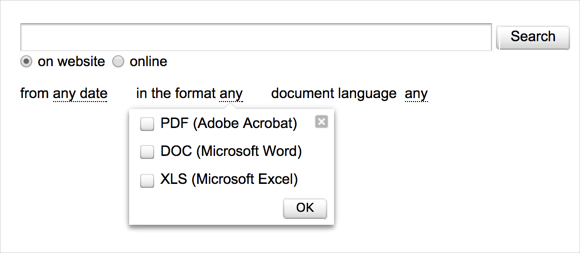 You can use the following types of constraints in Yandex Site Search:
Date constraints restrict search results to pages that were changed over the period specified by the user (keep in mind that effectiveness of this parameter depends on how accurate is the data returned by the site's host server).

Site section constraints limit the search results to a specific site section (i.e., directory), for example, http://mysite.com/about/;

Keyword constraints define a set of keywords that the site user can add to their query.

Constraints of file formats limit the search results to document formats selected by the user.

Document language limits search results to pages written in languages selected by the user.

Custom constraints add your chosen search operators to the query.
Keep in mind that you can use up to five constraint types in a single search form at once, including custom constraints. Each form cannot have more than 100 constraints of each type.