Sites for mobile devices
Search engines are improving search results for mobile devices such as smartphones and tablets. Mobile users are most likely to be shown a site that uses adaptive design, dynamic page layout, or a mobile version of the site.
Use the following recommendations to make your site easier to view on mobile devices:
Make your site's content maximally visible on a mobile device screen.

For sites that use adaptive web design, use <meta name="viewport" content="width=device-width, initial-scale=1"> to define the viewing area for content. For more information, see Using HTML tags.

For site pages that have a mobile version, specify the URL. For example, you can use the link element:

<link rel="alternate" media="only screen and (max-width: 640px)" href="http://m.example.com/page.html"/>

Don't use Flash, Silverlight, or Applet technologies on pages that are intended for mobile users. These technologies aren't necessarily supported on mobile devices.

Tip.

For example, users can't view an interactive section of the site or videos implemented using Flash. We recommend using HTML5 to integrate content, or eliminating heavy and complex interactive elements.

The site content should fit on the screen horizontally.
The text size in pixels should allow the entire text to be read comfortably on a mobile device screen.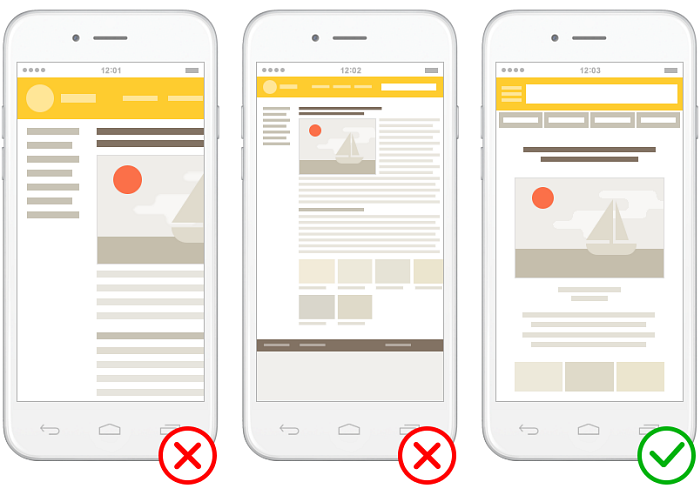 Website features for viewing on mobile devices

| Type | Feature |
| --- | --- |
| Adaptive web design | The site adapts to the screen size and resolution; accessed at the same URL for all devices |
| Mobile version of site | A separate URL is used for mobile devices (a special subdomain, such as m.example.com, mob.example.com, and so on) |
| Dynamic page layout | For viewing on different mobile devices, the server responds to a request for the same URL with different versions of the HTML and CSS code |
Website features for viewing on mobile devices

| Type | Feature |
| --- | --- |
| Adaptive web design | The site adapts to the screen size and resolution; accessed at the same URL for all devices |
| Mobile version of site | A separate URL is used for mobile devices (a special subdomain, such as m.example.com, mob.example.com, and so on) |
| Dynamic page layout | For viewing on different mobile devices, the server responds to a request for the same URL with different versions of the HTML and CSS code |